Two weeks and three chapters in, and we've barely even scratched the surface of these books. I really need to get my shapely posterior in gearior (lol) or this will for reals take me my entire life. I just have so flingin'-flangin' much I want to say about the books! It's hard to speed up! Maybe I should just relax and enjoy the process instead of freaking out over nothing, three installments into this incredibly long project? No way to know. Maybe!
Chapter three is both a really eventful chapter, because it's full of events happening, but it's also a chapter that could easily be summarized in a couple of sentences, because all the stuff that happens in basically escalations of the same thing. OF COURSE I am not going to summarize it in two sentences, because I have never met a two sentence summary that I couldn't stretch into 500 words, but also there are a lot of interesting little side things to discuss along the way. Reading the book so slowly and carefully, as opposed to unhinging my jaw and just swallowing it whole like I usually do, has given me more appreciation for the role of each chapter in the overall framework of the book. This is the first time I've ever felt how high the stakes are for Harry, and that's shown some more in this chapter. The awfulness of Harry's life with the Dursleys REALLY makes the entrance of mystery and excitement into his life in this chapter that much more meaningful for us, and for Harry. I'll talk more about this as we go along, hypothetically, if I remember.
When we last saw Harry, he was grounded in his cupboard for talking to the boa constrictor at the zoo. Aaaaaand he's still grounded, for a long-ass time. He doesn't get ungrounded until the middle of summer break, which is important for understanding how this chapter's events play out, but not a super helpful detail in general since we're not told what month Dudley's birthday was in. We'll just assume it was months ago.
Harry isn't a dummy so he loves summer vacay no duh but it presents a new problem, in that Dudley and his gang of mouthbreathers are at the Dursleys house all day, everyday, and mostly they just want to beat the crap out of Harry, which is so great for Harry. Understandably, Harry prefers to absent himself from the house and he mostly just wanders the town, pondering the possibilities of the coming year. Dudley is heading off to a fancy private school called Smeltings, so for the first time in his life Harry gets to be at a school alone, without Dudley there to poison the well for him. He's feeling really hopeful, like maybe this year he can make *A* friend. His first friend. EVER. This part made me want to scream into the book at Harry. DUDE YOU DO NOT EVEN KNOW HOW RAD THINGS ARE ABOUT TO GET FOR YOUUUUUUUUU but I didn't because it's a book (allegedly) and Harry isn't a real person (allegedly) so it would be pointless (allegedly.)
In preparation for the next school year, Dudley goes to London to buy a fancy new uniform for his fancy school for stupid fancy aholes. Imagine this coat in maroon, these in orange (!), and this hat. In addition to looking VERY Michigan J. Frog in my mind's eye, the coat and knickerbockers are the colors of my middle school, so I am in favor. Go Cougars! Dudley also gets some kind of crazy knobby stick with features prominently in a lot of the comedic moments in this chapter.
Harry, on the other hand, will be wearing more of Dudley's hand-me-downs to his new school, only dyed grey because uniforms. Harry's hopes for a fresh start next year are slightly dashed by imagining himself showing up to school, looking like he's dressed in bits of old elephant skin, which is an EXCELLENT image, J.K. Rowling. A+.  Poor Harry. We can all relate to fears about new schools, and wanting to make a good impression, especially at Harry's age, which would correspond to 6th grade for us. Everyone agrees that middle school is the absolute worst age for humans, regardless of their nationality or magical abilities. When I was in 7th grade, a girl in 8th grade bullied me about wearing knock-off Keds because mine didn't have the Keds label on the back. A) What a stereotypical, ridiculously cliched thing to aggressively tease someone about. B) They were real Keds, bitch, but those blue rubber labels always fall off immediately and if YOU wore real Keds you'd know that, Mariah. BOOM. Mic dropped. Kira walks off the four square court to the sounds of cheering crowds. (In real life I blushed bright red and stuttered protestations that definitely sounded like lies. Eventually she and I became kind of friends because we were in French together, but she still sucked eggs.) So, suffice it to say, I can relate to Harry's concerns and they are not unfounded.
This is another part where we as re-readers know that his next year of school is going to be so much freaking cooler than he's expecting, and he will DEFINITELY not be wearing smelly old grey hand-me-downs. Realizing that Harry has never had a friend in his entire life, has always had his life pretty much ruined by Dudley's aggression, and how excited Harry is for a fresh start, makes the literally magical turn of events that's about to happen all the more exciting. He's not just a normal, bored kid who has a great life that gets even greater. He has nothing, and getting to go to Hogwarts gives him EVERYTHING.
Over breakfast, at some point in July, there is a kerfluffle about the mail.
They heard the click of the mail slot and flop of letters on the doormat.

"Get the mail, Dudley," said Uncle Vernon from behind his paper.

"Make Harry get it."

"Get the mail, Harry."

"Make Dudley get it."

"Poke him with your Smelting stick, Dudley."

Harry dodged the Smelting stick and went to get the mail.
The mail is the usual stuff but also something for Harry! Up until this very moment in Harry's life, he has never, ever, ever received mail addressed to him. And it's not just addressed to his address. It's addressed specifically to The Cupboard Under The Stairs! What in the world?! And it's a super fancy letter, with no stamp on it, on thick ivory parchment paper with EMERALD GREEN INK!!! We know that is like the very most wizardy letter in the world, but Harry doesn't know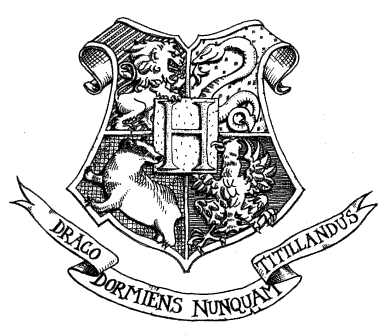 that green ink is a dead giveaway with regards to wizardy stuff being afoot. Oh, and THIS:
Turning the envelope over, his hand trembling, Harry saw a purple wax seal [ed. SO WIZARDY OMG] bearing a coat of arms: a lion, an eagle, a badger, and a snake surrounding a large letter H.
Whoa, man, that is the very most wizardy letter in the world, but poor Harry, raised by the most Muggle-y Muggles ever, has no experience with stuff like this and is just like "!!!!!!!" and wanders in a daze back into the kitchen with the mail, beginning to open his letter. He doesn't get far, though, because stupid jerky Dudley points out that Harry has something, and OF COURSE Mr. Dursley yanks it out of Harry's hands very rudely. (I'm surprised Harry didn't just immediately stash the letter in his cupboard and save it for later, because the Dursleys definitely do not want him to have anything that he thinks is cool. That seems like Dursley 101 to me.) Mr. Dursley reads the letter, and basically freaks the f*ck out. His face goes from red to curdled grey white in a couple of seconds. Mrs. Dursley reads it and then SHE freaks the f*ck out.
Both Dudley and Harry are nearly dead from absolutely HAVING to know what is in the letter, for very different reasons, but the Dursleys kick both boys out of the kitchen, which is how we know they are shaken to their core. If DUDLEY is getting excluded, you know shit is getting real. The boys spy outside the door and it's super clear the Dursleys know exactly who the letter is from and what it's about. They agree to ignore the letter in hopes that the sender will just give up. But we're left with THIS tantalizing morsel:
"I'm not having one in the house, Petunia! Didn't we swear when we took him in that we'd stamp out that dangerous nonsense?"
Poor Harry's brain must have basically combusted with curiosity because what on God's green earth does that even mean? "One" what? What "dangerous nonsense"?? WHO IS THE LETTER FROM?! But Harry doesn't get to find out yet.
As a direct result of Lettergate, (writer's tip: Adding -gate onto the ending of anything makes it an exciting and important Thing) the Dursleys tell Harry he should move upstairs into the spare bedroom, ALLEGEDLY because he's getting so big, but we know the Dursleys and we know they'd never do anything for Harry out of consideration. Harry, rather than being excited about moving out of his lame cupboard into a real room, is mostly concerned with getting his letter back, but Mr. Dursley tells him that it's burnt up now, it wasn't for Harry and was a mistake, which is obviously a lie. Even the fact that Harry is now sleeping in Dudley's overflow room, which drives Dudley nearly insane with frustration and anger, doesn't make Harry feel better about getting his letter taken away.
The next morning's breakfast is very subdued after all the confusion the day before. Harry wants his letter, Mr. and Mrs. Dursley are all freaked, and Dudley is having a VERY hard time adjusting to the fact that his parents haven't been giving in to his temper tantrums for the last couple of days. When the mail comes, there's another letter for Harry, this time addressed to The Smallest Bedroom. There's some wrestling as Harry, Dudley, and Mr. Dursley fight to get control of the letter, but Mr. Dursley (who is, as we recall, a full-grown male walrus) wins the fight and sends the boys away so he can discuss it all with Mrs. Dursley.
Harry very astutely reasons that if the sender knows Harry switched rooms, the sender also knows that Harry didn't get the first letter, so they'll probably keep trying. Harry wakes up at the crack of dawn to sneak out of the house and try to meet the mailman on the street, but Mr. Dursley has anticipated this and is sleeping in a sleeping bag in the hallway. Rats! Foiled again!
From here on, things pretty much spiral out of control for the entire family. Mr. Dursley's efforts to block the letters from coming get more and more insane, while the letters continue to arrive via more aggressive and creative routes. (24 copies folded up and hidden inside eggs? Seems a little far-fetched given how thick the parchment paper is supposed to be but okay, J.K.R..) Mr. Dursley bundles the family out of the house and into the car, hoping to throw off the sender by leaving the house, but NO DUH THE SENDER IS MAGIC, so the sender isn't fooled and the letters follow the Dursleys and Harry. Despite
Mr. Dursleys unraveling mental health and his frantic efforts to get them far enough off the grid to be untrackable by the sender, the letters follow.
The family ends their journey in a rickety shack on a rock, in the middle of a stormy ocean, reached only by rowboat. Harry realizes somewhat dully that tomorrow will be his 11th birthday, but he spends his last night as a 10 year old eating chips (US)/crisps (UK) and a banana for dinner, as a storm rages around them in their creaky cabin (alliteration, show not tell, nbd). Both Harry and Mr. Dursley feel very confident that there is no way the sender could possibly find them all the way out here, though their feelings about this are pretty different.
The Dursleys go to bed in the bedroom, Dudley gets the sofa, and poor birthday boy Harry gets a ratty blanket and the hard floor. As Harry lies sleepless and shivering, counting down the minutes to his birthday, listening to the house on the rock making tortured noises in the storm – suddenly, at the stroke of midnight on his 11th birthday – there's a HUGE booming knock on the door of the cabin. Who is it?????
We'll find out Wednesday, as if you flobberworms don't already know.
Something I thought about while I was reading this chapter, which relates back to my thoughts on Dumbledore's kind of shocking negligence regarding Harry's well-being with the Dursleys…while discussing the contents of the mysterious letter in the kitchen, one of the Dursleys' greatest fears is that they're being watched, because how could the letter have been addressed to Harry in the cupboard otherwise? This small fear, that someone might be monitoring them related to Harry, is enough to spur them to move him out of the cupboard and into a real bedroom, potentially improving Harry's quality of life to a huge degree. This is a my frustration about Professor Dumbledore leaving Harry alone for so long with the Dursleys. If he, or some other magical person, were randomly dropping by to check in on Harry – even if they never crossed paths with Harry and he never saw them or knew about his magical lineage – that would've made his life dramatically better, if only because the Dursleys don't want to seem like they're mistreating Harry. We saw that when the Dursleys bought Harry a lemon popsicle at the zoo, because they didn't want THE ICE CREAM VENDOR to think they're jerks for buying Piers and Dudley something and not Harry. The Dursleys are clearly very responsive to social pressure! I'm not saying Dumbledore should've had Harry live with a wizarding family. But Dumbledore didn't even check in on him!
To be clear, I'm not really getting into the stuff Dumbledore says later about his specific reasons for keeping Harry at the Dursleys. He does explain it, somewhat. But we're not there yet, so I'm trying to keep my thinking on the subjects at least somewhat limited, as much as possible.